Osaka MICE Safety EXPO introduced new ideas for secure MICE events
The exhibition was held in March.
The Osaka MICE Safety EXPO, held March 24- 25, 2021 at INTEX Osaka, was designed to give a space to present new ideas and models for safe and secure MICE events, with the goal of reassuring organizers, exhibitors, and attendees alike on the safety in holding in-person events as well as reaffirming the value of such events.
The exhibition has received over 4,000 visitors and 144 exhibiting companies. The EXPO received support from local and national economic organizations, as well as the Osaka prefectural and governments, and several national ministries.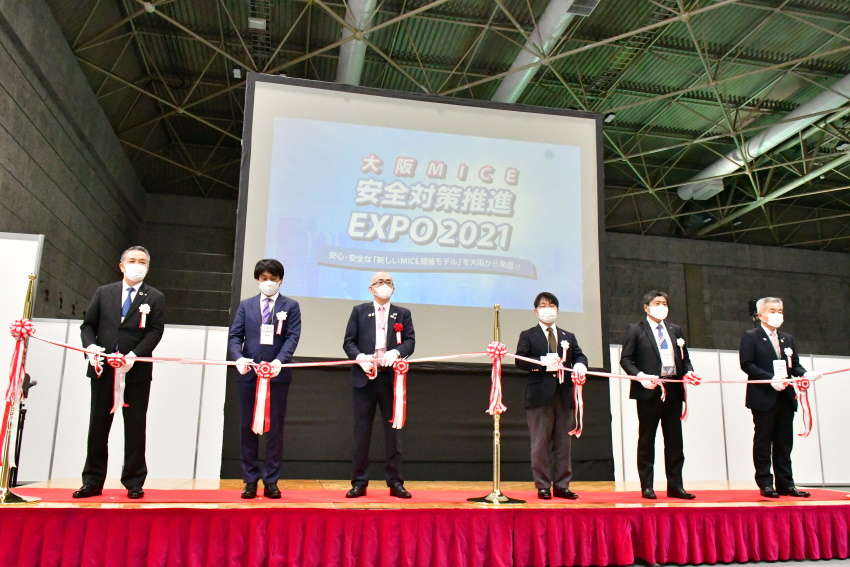 Osaka Convention & Tourism Bureau President HIroshi Mizohata said: "In July of last year, Japan's first MICE event after the state of emergency, the Kansai Hotel and Restaurant Show, was our first action in turning the tide against the effects of the pandemic. Today's exhibition is our second such action, and in our 'hop, step, and jump' way of thinking today is our 'step' stage. The Osaka Convention & Tourism Bureau is giving its all to promoting the holding of events as much as possible and is aiming for Japan to be a top runner in the industry, but it is thanks to efforts of the many industry professionals, Osaka City, and INTEX Osaka that Osaka has become so valiant in fighting to be able to hold MICE events. I truly feel once again that Osaka's energy is moving Japan's MICE industry. I have come to feel that from many different perspectives MICE events must be held in-person, which is why we here want to make a declaration for in-person events. Together, let's give it our all as we head for the light at the end of the tunnel."