Sarajevo's MICE sector powering change
# tags: Bosnia and Herzegovina , Sarajevo , Business Tourism
"Pyjamas" replied the guide (who lived through the Bosnian-war 1992-1995) when asked what does 'Peace' mean to you?
Her single-word answer encapsulated daily survival amid war; a frightened teenager, who during the four years of conflict, had worn her clothes to bed anticipating the need to escape the bombardments which characterised the siege of Sarajevo. Being able to wear her night clothes represented the end of hostilities, "peace without fear" she added, during our visit of the 'Tunnel Museum' located beside the airport and Mt. Igman, one of several mountains surrounding Sarajevo, creating a basin-like topography which helped concentrate the shelling so easily.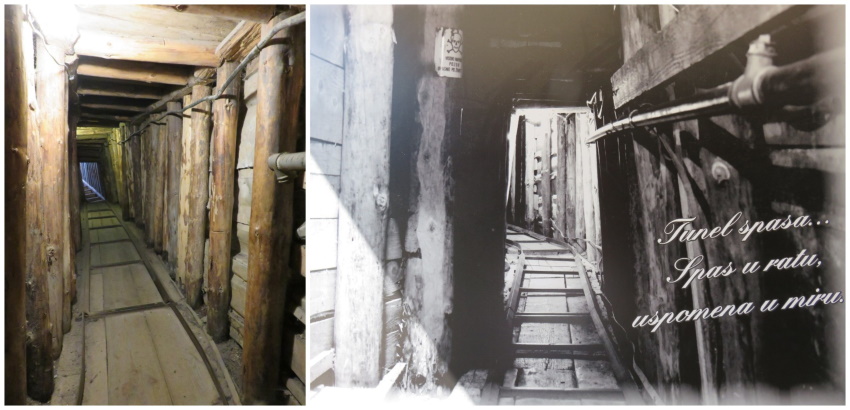 Tunnel Museum by Ramy Salameh

The Bosnian war and resulting 'Siege of Sarajevo' left a lasting legacy across the city in several war-focused museums, the pockmarked buildings and shell-scarred pavements (some now filled with red resin and known as 'Sarajevo Roses' in memoriam). Maybe the most poignant remains 'The Tunnel of Hope'; the museum preserves a 20-meter stretch of an 880-yard underground passage, which citizens hand-dug to create the only route from the besieged city to the outside world where food, medical and war supplies could be burrowed back in, along with much needed hope and humanity.
Today, it forms an exciting 'Incentive' activity one of many which is using the darker periods of the city's history and turning it into light, especially for the MICE sector. Sarajevo is in the early stages of realising its full MICE potential; whilst there is no dedicated convention bureau or stand-alone congress centre yet, there is a growing portfolio of hotel-based conference facilities, indicating that the 'wheels of its MICE industry' are starting to meet new demand; especially since 'FlyBosnia' inaugurated a direct flight from London-Luton to Sarajevo in September 2019. The airline offers a three-times-a-week service out of Luton, enhancing leisure, business and MICE links between the two countries.



Inaugural Flight FlyBosnia, courtesy of Luton Airport

"Conferencing is a big opportunity out here" commented his Excellency Matt Field, The British Ambassador in Sarajevo, Bosnia & Herzegovina (BiH). He formed part of the delegation who joined the inaugural 2-hour flight from London-Luton.
"We had the HM Trade commissioner for Europe, Andrew Mitchell, stating that there is a significant correlation between direct flights and business increasing" Field continued, pointing to the year-on-year expansion of the 'British Bosnian Club': "we have 100 regular participants and growing in many areas such as IT; British companies are sourcing Bosnian partners with a unique provision of services".
Yet for many, the name 'Sarajevo' conjures-up TV images of a war-torn city, reported direct to our living room's in the 1990's or more positively, watching 'Torvill & Dean' win gold at the Sarajevo Olympic Winter Games in 1984. These seismic events, and of course, the assassination of Archduke Franz Ferdinand (1914) which precipitated the First World War, all form part of the unique narrative that is creating a new wave of interest in Sarajevo and BiH. As is a favourable currency exchange, abundant natural and human resources, plus a vibrant and modern culture reflecting 'east and west' diversity.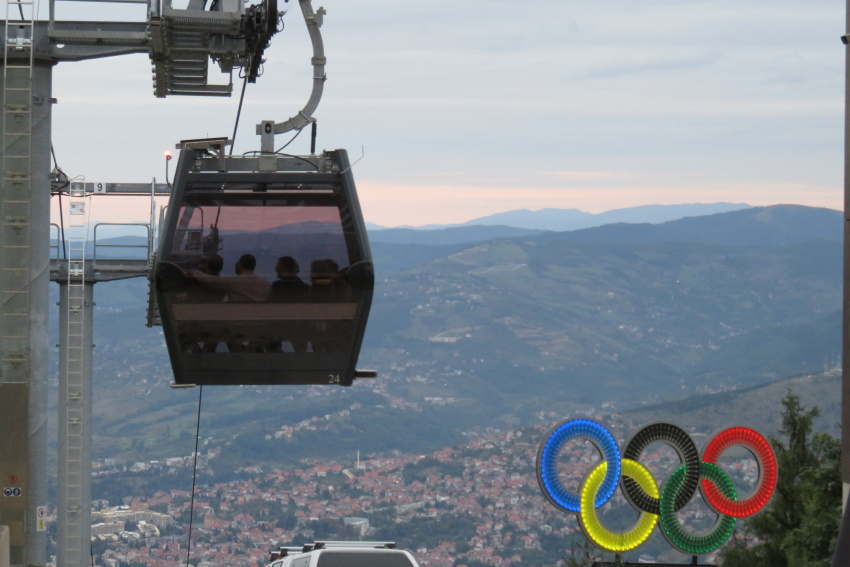 Modern Cable Car with Olympic Rings by Ramy Salameh

The 'Rotana Aparthotel' recently opened its doors offering intimate meeting spaces and the uber-modern 'Swissotel Hotel', a glistening high-rise, whose angular form rises out of the Sarajevo City Centre Mall (SCC), offers a dedicated meetings level with a 'Conference Hall' capacity for 400 people.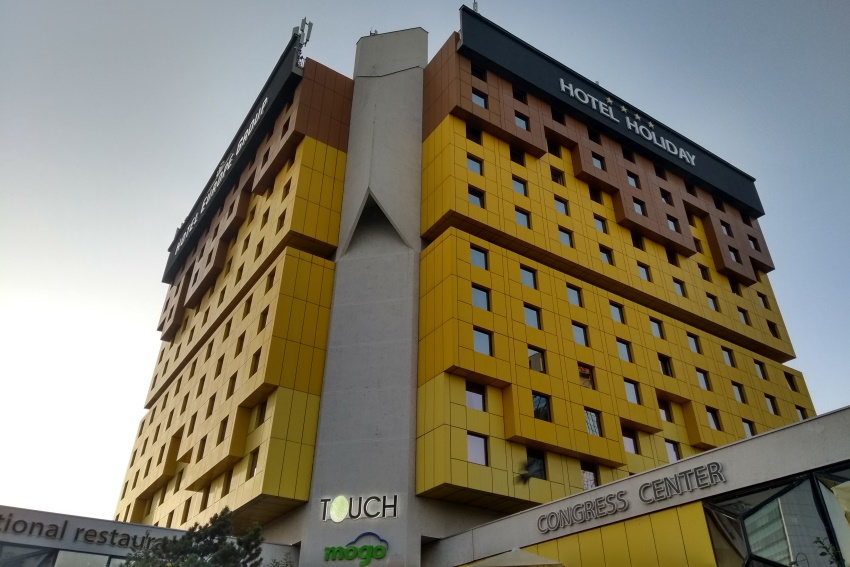 Hotel Holiday Sarajevo with Congress Center by Ramy Salameh

The neighbouring 'Hotel Holiday' formerly the 'Holiday Inn', the main press hotel during the dark days of the siege, incorporates another larger 'Convention Hall' for up to 600 people. This Lego-like structure was designed by architect Ivan Straus and will soon create an in-house museum charting the buildings importance during the Bosnian war.
Currently, the largest conference spaces in the city belong to 'Hotel Hills Thermal Spa & Resort' with a capacity of 1500 and plans for expansion for up to 5,000 people. It is also located nearby the airport in Ilidza and recently hosted the 'Global Islamic Finance Awards'; "it attracted senior figures from around the world including Malaysia, Indonesia and Sudan, for example, and (the event) was handled very well" Ambassador Field stated.
A major win to boost the confidence of Sarajevo's MICE industry was hosting the global 'European Bank of Reconstruction and Development' (ERBD) conference in May, attracting 2637 participants including influential figures from the governmental, financial and Corporate sectors; the aim to create stronger bonds and greater partnerships in all parts of the economy. Afterwards in June, the ERBD president re-affirmed EU membership prospects for the Western Balkans, an example of how MICE can help power change.
Local PCO, ViaMedia organised a cluster of buildings within the business district to host the conference, showcasing Sarajevo's flexibility: Mr Axel Reiserer, a representative of EBRD commented "We aimed for a 'campus' by using four different buildings which, luckily, were all located within walking distance of each other: the Council of Ministers' Tower, the Parliamentary Assembly Building, the Hotel Holiday and the Swissotel."
ERBD's Board of Governors held their reception in the Austro-Hungarian-era Town Hall, one of Sarajevo's premier venues, which re-opened in 2014 after restoration, having been targeted by incendiary shells in 1992 from the nearby Mt. Trebevic. The summit is reached by the 'Sarajevo cable-car' where the bobsledding track, an Olympic relic, lies between pine trees scarred by war and graffiti, yet makes for a fascinating walking-trail back down the mountain.
In February of 2019 the 'European Youth Olympics' descended on Sarajevo bringing with it 2000 participants. It was the first time since 1984 that a major sporting event had returned; "the Olympic village was located near the airport and other venues were very well run; the British team brought home gold in the curling" Ambassador Field added.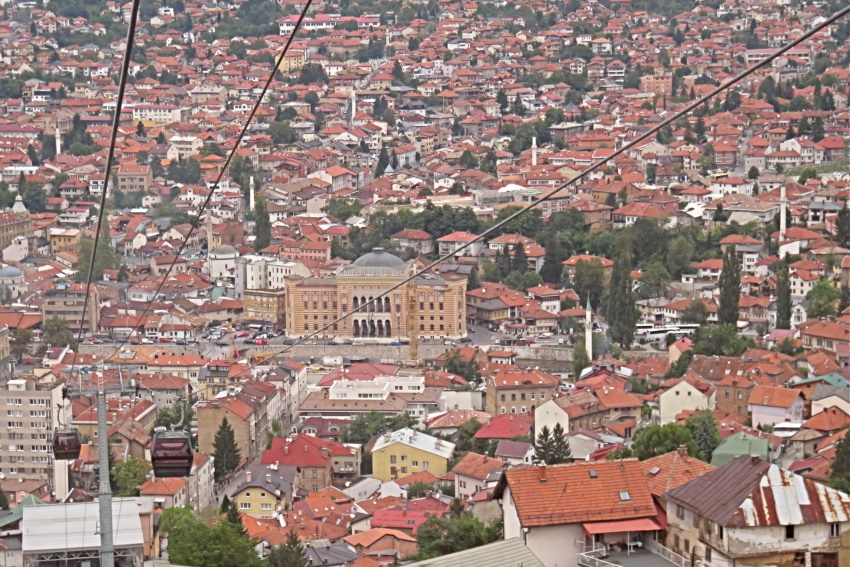 Sarajevo Town Hall - taken from Cable Car by Ramy Salameh

Sport and the Olympic movement has been a key marker for the city. No one can ever forget the moment in 1984 when 'Torvill & Dean' secured Olympic gold, skating to 'Bolero' at the Zetra stadium, in front of a UK audience of 24million. The following war and siege of Sarajevo reduced many of the city's Olympic venues to rubble, including the ice rink, rebuilt and renamed 'Olympic Hall Juan Antonio Samaranch' in 1999. The 'Olympic Games Museum', within the old quarter is one of many special venues for hire; even the Marriott Courtyard's multi-purpose meeting spaces can be divided into 'Torvill', 'Dean' and 'Bolero', spreading across 229sqm.
Dajana Zildzic, Head of Operations, Pro-Optimus, a PCO based in Sarajevo commented "last year (2018) we arranged 12 congresses and not just in Sarajevo, also other cities, just smaller congresses of between 300-500". She acknowledges the need for a dedicated convention centre, but has seen investments into MICE facilities coming from the hotel sector, as more chains see the potential of the destination.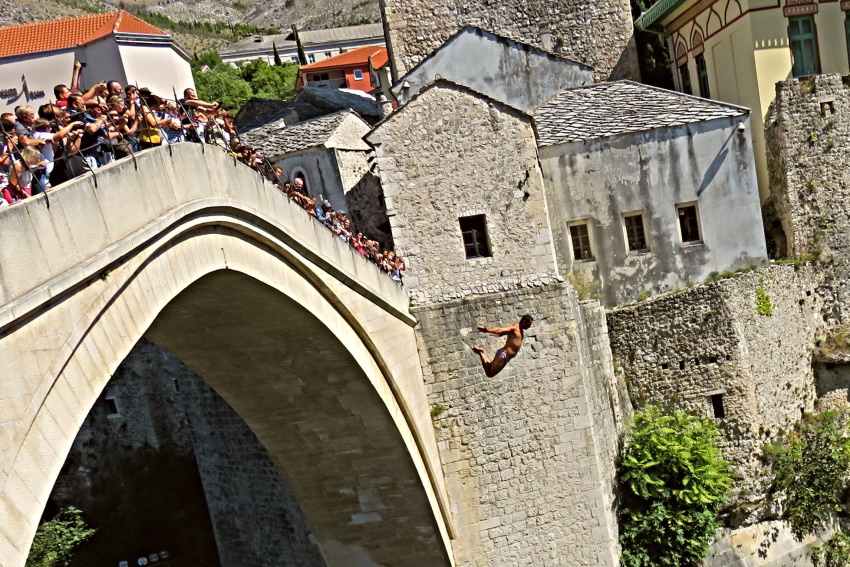 Mostar Bridge Jumpers by Ramy Salameh

Sarajevo and BiH is rich in natural resources and so Zildzic believes "Incentives are one of the best market opportunities here because of the cost-efficiencies" when compared with higher costs in other major capitals of Europe, also flexibility; "we can do anything from quad-biking, white-water rafting and skiing. Even one client wanted to use a national monument (The White Fort) for a gala dinner, I said yes, and sourced permission from the municipality". A twin-centre incentive option exists with Mostar being under 2-hours' drive or taking a scenic rail journey. Whilst Mostar's tourists admire local divers leaping off the rebuilt 16th Century Ottoman bridge, other hardy souls can cross the Nretva River by zip-wire.

The Bosnian war and resulting 'Siege of Sarajevo' has created plenty of educational 'incentive' options for pre or post conference trips. The city's war-focused museums, pockmarked buildings and shell-scarred pavements (some now filled with red resin and known as 'Sarajevo Roses' in memoriam) form part of any visit to Sarajevo.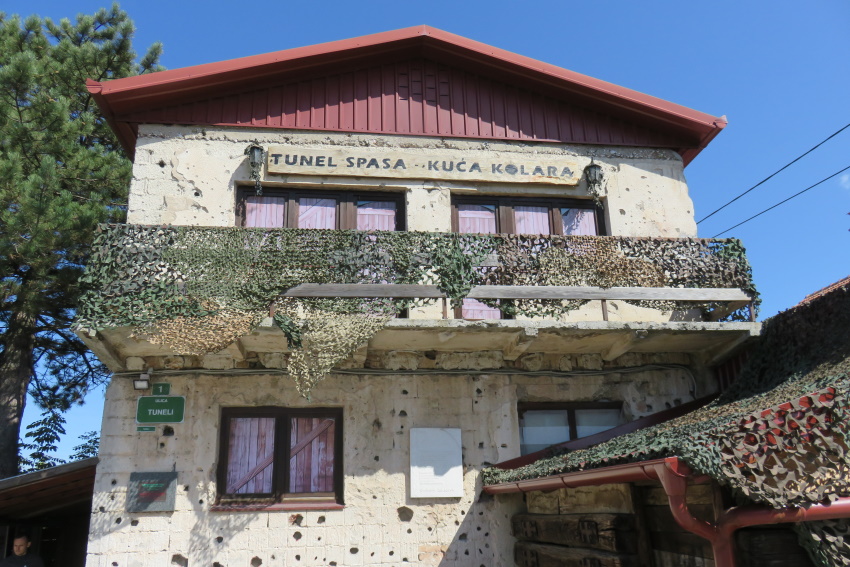 Tunnel Museum by Ramy Salameh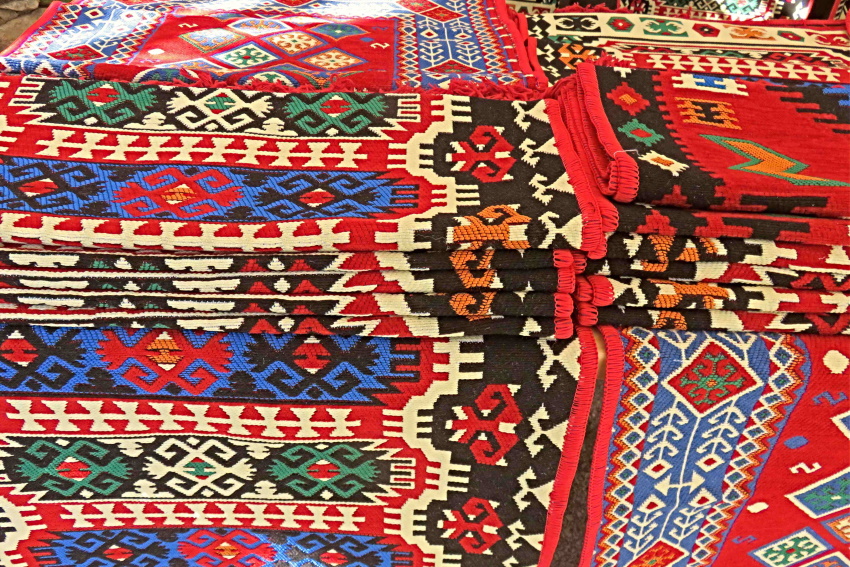 BiH Textiles by Ramy Salameh

War, of course, is not the only focus of this multi-cultural city. The only 'rat-a-tat-tat' you will hear today, is from the coppersmiths in 'Bascarsija', the old town founded by the Ottomans in the 15th Century. From the famous symbol of Sarajevo 'Sebilj' (a kiosk-shaped fountain) one walks in the shadows of Minarets, Orthodox-Christian domes, Catholic Church Towers and Jewish Synagogues propagating their religious rituals simultaneously. Within this compact bazaar-like quarter, many of Sarajevo's museums and historical sites of great importance abound. As does the signature aromas of grilled meats 'Cevapi' and strong Bosnian coffee.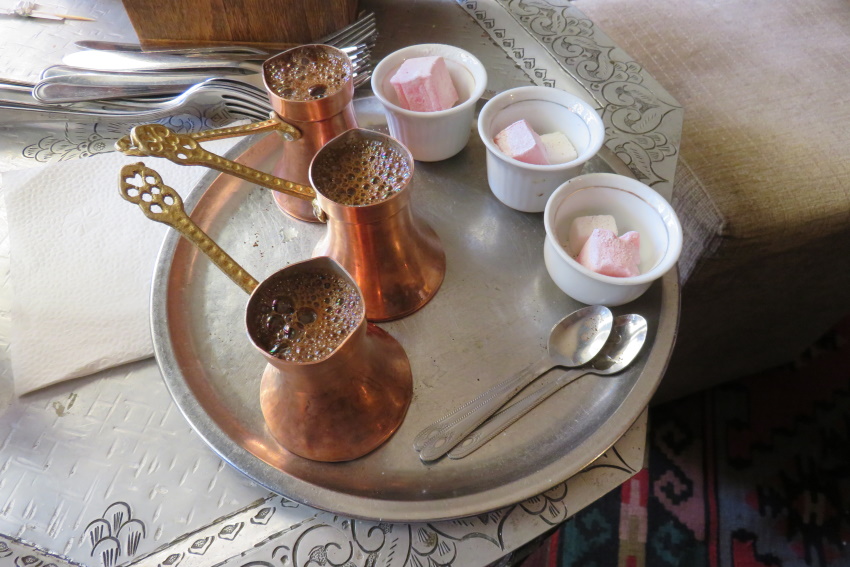 Bascarsija - traditional strong coffee and textiles by Ramy Salameh

A thriving tourism, business travel and MICE sector is a key part of shaping BiH's future.
Fact Box:
Visit Sarajevo (visitsarajevo.ba) – the latest travel information within the city
FlyBosnia (flybosnia.ba) offers a range of direct flights to Sarajevo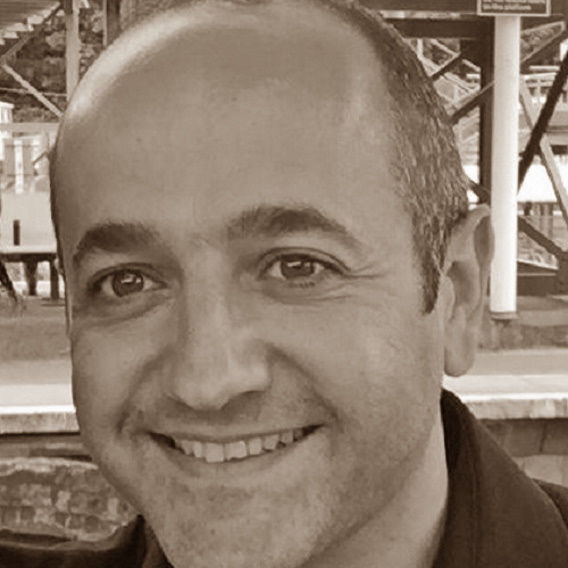 © Ramy Salameh Newsroom
Reporter