Sete Vales Suspensos and Pico do Arieiro among the "most beautiful hikes in Europe"
# tags: Madeira , Algarve , Tourism
Lagoa's Sete Vales Suspensos trail, in the Algarve, was considered the Best Hiking Destination in Europe. Pico do Arieiro, in Madeira, is in the top 15.
Sete Vales Suspensos (Seven Suspended Valleys)'s trail extends for 5.6 kilometres along Lagoa municipality, in the Algarve, land of some of the most famous beaches in the region. This walk connects the beaches of Vale Centeanes and Praia da Marinha, over some of the Algarve's most iconic cliffs. The name comes from the fact that this trail is almost a continuous line of cliffs, intersected with water lines, giving the illusion of suspended valleys. Nature was quite generous with this region and the views are breathtaking. Along the trail there is the spectacular Benagil cave, one of the Algarve's trademark images.
The hike from Pico do Arieiro to Pico Ruivo in Madeira island means walking more than 1800 metres above sea level. On cloudless days, it is even possible to have a clear view of the island's coast, but if the weather is cloudy, the sensation is that one is walking practically next to the clouds. The tunnels, the vegetation, the altitude give an almost dizzying atmosphere to this trail.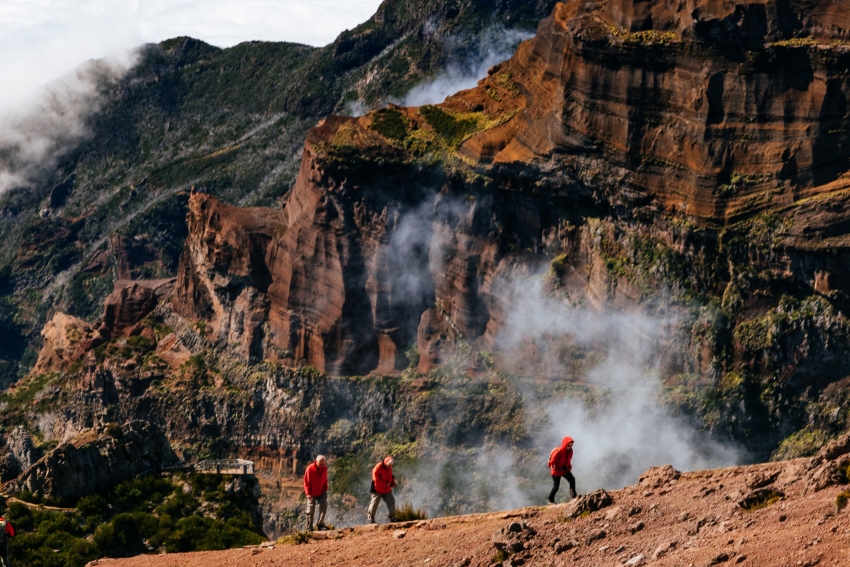 © José Mendes

The Sete Vales Suspensos trail was voted the Best Hiking Destination in Europe, in a ranking promoted by European Best Destinations. This walk, in the municipality of Lagoa, in the Algarve, was considered "a true treasure of rare beauty", according to Região de Turismo do Algarve (RTA - Algarve Tourist Region). The competition gathered the votes of more than 28 thousand travellers from 153 countries to establish this ranking that includes two Portuguese trails. Sete Vales Suspensos top the list. The Plzevice Lakes (Croatia), El Camino del Rey (Spain), The Kjeragbolten Hike (Norway), Pico de Arieiro, Madeira (Portugal), Besseggen Ridge Hike (Norway), Adrspach-Teplice Rock Towns (Czech Republic), Island of Skye (Scotland), Bled (Slovenia), GR20 (Corsica), Mullerthal (Luxembourg), Three Peaks Hiking Trail (Italy), Ostrog (Montenegro), Trolltunga (Norway) and Svartisen Glacier (Norway) complete the Top15 of hiking destinations in Europe.