São Miguel: A treasure well kept in the Atlantic coffer
There are many adjectives that can be used to describe São Miguel island. And incredible is one of them.
Of stunning beauty, the largest of the islands in the Azores archipelago holds an enviable natural heritage and numerous attractions that are guaranteed to delight leisure and business visitors.
One colour dominates this setting. An island of volcanic origin painted in green in all its different shades and textures, adorned with cows relaxing in the fields, where people say they are happy and we can easily understand that they are... But there is also the blue of the sea, that keeps the horizon infinite.
São Miguel holds one of the Seven Natural Wonders of Portugal, Lagoa das Sete Cidades, with its green and blue lagoons, which, according to a legend, were formed by the tears of a shepherd and a princess in the face of the bitterness of a forbidden love. And all this wonder, a kind of painting that forces you to breathe deeply when seen, can be admired from Vista do Rei viewpoint, named after the visit of King Carlos and Queen Amélia in 1901.
But this is not the only sight for sore eyes. One of the most beautiful angles in Sete Cidades can be seen from Grota do Inferno belvedere. From there you can see the lagoon and the village, and admire the landscape composed of craters, boilers, ponds and peaks. There, there is still time to enjoy Lagoa do Canário. On the way to Ponta Delgada, another lookout also suggests a stop. From Pico do Carvão you can see both the northern and southern coasts of the island, its cutouts, its time-shaped countryside, the remains of sleeping volcanoes.
This is one of the possible routes when visiting São Miguel. In fact, during the 44th APAVT – Associação Portuguesa das Agências de Viagens e Turismo (Portuguese Association of Travel and Tourism Agencies) Congress, held in Ponta Delgada last November, the Sete Cidades tour was made on board the Big Truck, own by LMJC Azores Tours, which thus provides an original experience and a different way of knowing the islands nooks and crannies.
And there is so much to know... One of the routes heads to Bela Vista viewpoint, from where you can see Ribeira Grande, and another one to Santa Iria viewpoint, from where you can see the north coast, its jagged line and a breathtaking view of the Atlantic. Another path leads the visitor to Lagoa do Fogo - another impressive site that shows just how extraordinary nature is - and Caldeira Velha with its warm waters. Another turn and the visitor arrives at Furnas: its lagoon, its pots that cook on the floor, its stew, its boilers and vapours and all the scents on the loose, its traditions.
Other mandatory visits include Ponta da Ferraria, Terra Nostra Park and Ribeira Quente. If you can find the time, don't miss the opportunity to visit the pineapple and tea plantations - São Miguel has two tea factories: Gorreana and Porto Formoso. And then, the cheese and the yeast cake... And local people, who make you feel so welcome.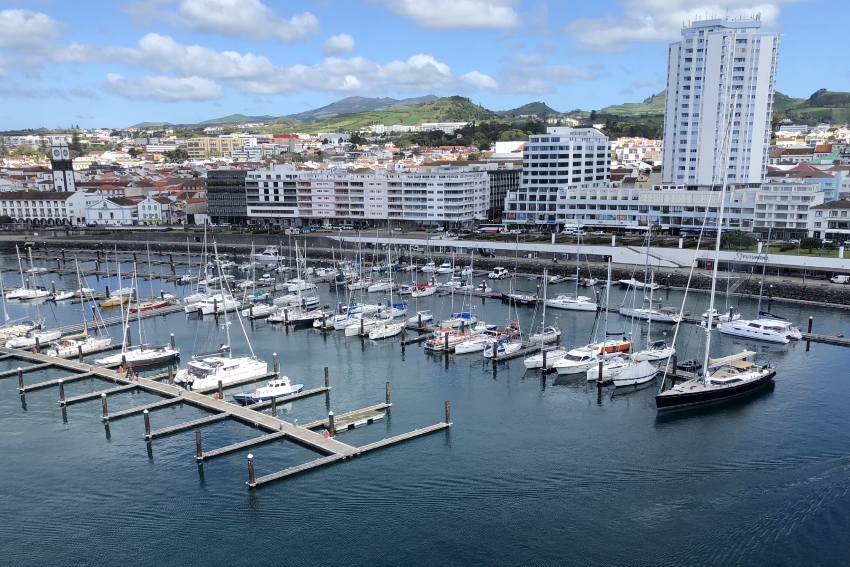 © ATA

An attractive destination for both leisure and business
Ponta Delgada is a city painted in black and white. Discreet in the ways, it is however exuberant and proud of all that the island has to offer. In the city, you can visit the churches of São José, São Sebastião and São Pedro, for example, Graça Market or Carlos Machado Museum, among other locations and curiosities. And there is also Portas da Cidade, a symbolic place that encourages a stroll through the historic streets of Ponta Delgada.
São Miguel is a tourist treasure all in itself. And as if its natural heritage wasn't enough, the island offers the best conditions for a number of activities, such as diving, whale watching, hiking, horse riding and cycling, golf, sailing, surfing, bodyboarding, canoeing or paragliding.
All this makes the destination even more appealing and interesting for both leisure and business travellers, who can take advantage from the openings in their business agenda to take a tour in the island, to get to know it, to breathe it in. The Azores have been gaining enormous visibility in recent years and have attracted visitors in both segments.
There are several event venues in São Miguel. One of them is Teatro Micaelense, in Ponta Delgada, where the last edition of the APAVT Congress was held. The venue has an auditorium with capacity for 739 people, a Noble Hall, four rooms and a foyer, suitable for different types of events and business meetings. Also in Ponta Delgada, there is the Portas do Mar complex - a project that has improved the city's sea front and which, besides a cruise terminal and a marina, offers leisure areas and Pavilhão do Mar, able to accommodate a wide range of events. But there is also the Public Library and Regional Archive of Ponta Delgada, Coliseu Micaelense and Teatro Ribeiragrandense, among others.
João Paulo II airport serves the island of São Miguel, connecting it quickly to both the European and American continent - its location is therefore quite attractive. And hotel offer is quite diverse, from four and five-star hotels to local accommodation.
São Miguel has all the conditions to embrace the meetings industry, without neglecting leisure travellers. All in a controlled, sustained way, so that, without neglecting the experiences, the natural features that make this destination so attractive aren't lost. This is an island of living nature, salt, wind, sun, four seasons in one single day, poetry, painted in all the green shades available on the palette. A treasure well kept by the Atlantic waves.
Maria João Leite*
* Travelled to the Azores on APAVT invitation